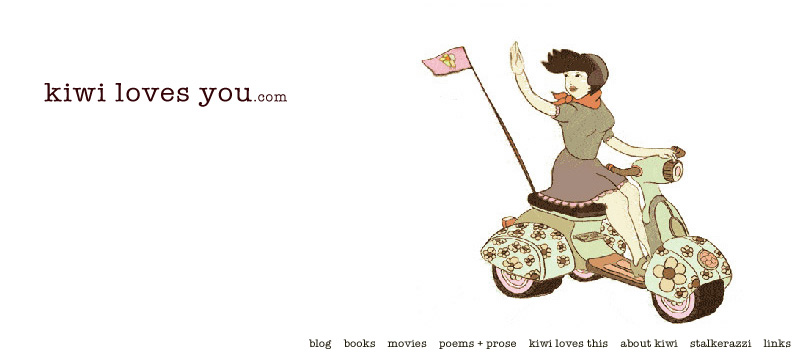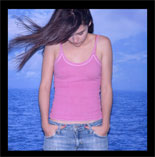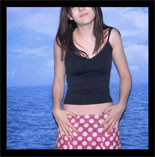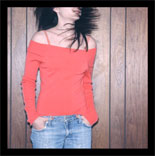 THE GEOGRAPHY OF GIRLHOOD
BUZZ & REVIEWS
This novel in verse follows Penny as she navigates the unpredictable and often harrowing waters of young adulthood, and her episodic narration reverberates with authenticity. She is a sensitive girl deeply affected by her mother's abandonment when she was six. Though many of the hurdles that Penny encounters are representative of typical small-town teens, she has an insight into other people and even into her own feelings that make this a penetrating portrait of growing up female. The selections touch on the mercurial nature of friendships, envy of an attractive older sister with a boyfriend, self-consciousness about her own body and beauty, longing to be in the "in" crowd while at the same time deriding the superficial behavior of its members, and adjusting to a stepmother and younger stepbrother. The everyday pain of adolescence rings true throughout this readable and honest story. There is some matter-of-fact mention of sexual situations and underage drinking. However, it is the clarity, the keen understanding, and the apt metaphors that make Penny's voice so memorable.

- Renee Steinberg, School Library Journal
On her fourth birthday Penny received a globe from her mother: "If you ever need me . . . just remember I'll always be somewhere on here." Two weeks later her mother left, never to return. In a powerful verse novel, Penny charts the landscape of her high-school years--her older sister's wild ways, her best friend's descent into depression, her first boyfriend's accidental death, her crush on a teacher, her father's new marriage, her protective relationship of her younger stepbrother, and, always, her longing for her missing mother. Overcome by the pain in her life, Penny runs away with her sister's ex-boyfriend, but realizes it's a mistake and returns home to heal. The geography metaphor and wanderlust theme successfully connect the poems, some of which were published previously in literary journals, and the emotions of high-school and small-town life are beautifully expressed: "nothing ever happens / and if it does / all the things with wings / fly away." Give this to Sonya Sones' fans.

- Cindy Dobrez, Booklist
In this novel in verse, we enter the mind and the heart of Penny, starting when she is 14 and progressing to her 18th year. When she was six, her mother left the family (Penny, her older sister, and her father). Now, moving into adulthood, Penny is trying to understand her life and all of the complex relationships that define it--the conflict between her sister and her father, her father's remarriage, the acquisition of a geeky stepbrother. Outside of her own family, Penny struggles with figuring out what she really wants out of her life, and how she can move beyond her sister's shadow. Smith writes with honesty when her lyric poetry describes Penny's pain and exhilaration, confusion and loss. The words read like diary entries as readers learn about Penny's crush on her sister's boyfriend, her best friend's slow self-destructive descent, and all of the "firsts" that define adolescence, including a devastating death that redefines her world.

- Michele Winship, Kliatt
With pithy, evocative metaphors, Smith's free-verse poems capture the fizzy energies, soul-deadened malaises, and ultra-confident poses that mark teen girl experience. As Penny moves from being a shaky fourteen ("a joke that no one gets") to a confident sixteen ("I am four tires and a miniskirt,/ I am heaven on wheels"), she flirts dangerously, makes and loses friends, and tries to sort out who she is. Her matrix of identifications consists of a sexy sister whose delinquent boyfriend she can't help but want, a mother whose wanderlust took her away from her kids permanently when they were little, and a father who sees his girls as "piles of lingerie/ .. . water-rings and dented fenders/... a trail of CDs littering the road to nowhere." Smith gets the climate for her geography just right: Penny's moods are as consistently inconsistent as the tides on the shore of her small coastal town, and the things that happen-the former boyfriend who is electrocuted in a storm, the best friend who develops a mental illness and needs to be sent away for a while, the remarriage of her father that comes with a geeky, needy stepbrother, her own escape that ends in a desire to return to the home she thought was smothering her-all serve to create a softening effect, an erosion of her sharp edges into a sensitive and mature awareness of her place in her world. More original and fresh than plot or character, though, is Smith's poetry-wise, surprising, sometimes even erotic images take readers into themselves as much as they do into Penny, reminding, celebrating, and affirming the awkward charm and exuberant grace of being girl.

- Karen Coats, Bulletin of the Center for Children's Books
I just finished The Geography of Girlhood and wanted to tell you that it is brilliant. Such powerful prose and so evocative of the teenage years. It is one of the best YA books I have ever read.

- Pamela Coughlan, children's librarian, www.motherreader.com
The Geography of Girlhood is a quirky and poignant story filled with wonderful details.

- Curtis Sittenfeld, bestselling author of Prep
The mystery of a missing mother never overwhelms this coming-of-age story told in poetry, as Penny Morrow decides to test the waters and find out who she is-without rocking the boat too much. When readers first meet Penny, she's anticipating high school, her first kiss and contemplating the wild and loose behavior of her older sister. Soon Penny accumulates experiences both funny and poignant, including a first kiss, a failed drama performance and events surrounding her father's remarriage. But it's the unexpected loss of the first-kiss-giver that turns Penny's world upside down and propels her on a final attempt at living dangerously, silencing the ghost of her missing mother and putting all the pieces together. Penny's transformation from shy little sister to mature teenager is gratifying, and readers will be enormously satisfied that Penny has grown from ditz to balanced young woman, ready to handle the challenges of adulthood.

- Kirkus Reviews
The Geography of Girlhood sets itself apart from its pink-covered competitors from the first sentence. It is told in verse, and that reason as well as plenty others, allows the book to surpass others and their mediocrity in sophistication and truth. As a high schooler, I continually groan as t.v. shows and books attempt to emulate 'normal- teenage behavior such as rebellion, troubles with parents, school, the growing attraction between the sexes, and plenty of others. Try as they may, it all comes out too clich'd and staged. In this book it seems real rather than artificial and relatable as opposed to distant. Penny, the heroine of sort (the old soul type, a bit used, works here), narrates her life in a prose that is all at once melancholy, hopeful, self-conscious and young. Luckily, she is not the now classic girl hero: spunky and awkward, donned in designer duds, a flirt and a geek all rolled into one, and the boys love her for it. It is easy to become enamored of this girl, to want success for her, to desire a fairy tale ending for her even if you'd pronounce the book 'predictable- if it occurred. Penny goes through the same troubles I have experienced (or have seen classmates struggle with): envy of her defiant but achingly beautiful elder sister Tara, her love for a boy that she cannot have, hook-up and break-up with her first boyfriend Randall, growing apart from friends she thought she'd always have, and watching her father remarry Susan with the geeky (but so lovable) son. At times the reader adores Penny for her naivet- as in the beginning (I'm sure she made a fine Anne Frank!). Her tender moments with her stepbrother assure us in quiet splendor of the poignancy of teenage years. Other moments, as when she and Bobby flee from the town, we cannot help but be annoyed and curse the pages. In the end though Penny is still herself, humanly flawed and susceptible to pressure, yet there still remains the element of good inside her, just a bit of the Austen female protagonist innate in her to keep the audience engaged and optimistic of at least a decent future. If the reader realizes her goals for Penny are set too possibly high (the handsome football player boyfriend, the Brady Bunch blended family, etc) she will enjoy the book thoroughly as I did. If not, she should sit down on her perfectly padded couch inside her suburban home, flip on the plasma television, and settle for Lizzie McGuire. P.S. The soundtrack Jenny Arnold gives her with Rilo Kiley, Hole, Yeah Yeah Yeahs, and others is perhaps the most welcome surprise in this delightful book. I laude the author for that along with all the other praise I detail above! Lets just say she has a fan in me!

- Erin Poljanac, Age 16, Omaha, Nebraska
Just finished your book and loved it. The writing is subtle and poignant. I had to read it in one sitting, because it's quite hard to put down. I got choked up a little with some of the step-brother stuff. Great work!

- Michael Addis, a 40 year old MALE reader!
Perfectly captures what being a teenager is all about, from the smallest insecurities to the biggest heartbreaks. It's a great read, written in a style that is compelling, unique, and unquestionably true.

- Sarah Dessen, author of The Truth About Forever
This is what it feels like to grow up, and these are the poems that every teenage girl, overwhelmed by longing, jealousy, and passion, would love to write.

- Leah Stewart, author of The Myth of You & Me
A beautifully written, remarkably perceptive take on growing up. I only wish this book had been around when I was a teenager.

- Julia Stiles
I loved Penny's story. It's compelling, evocative, funny, sensual, and painfully real.

- Ann Martin, author of The Babysitter's Club
This is what they mean by poetry in motion -- I've never read anything so totally fresh, innovative, intimate, sad, exciting, and unforgettable. This is the kind of book that makes you feel like you are not as alone as you thought you were.

- Jennifer Belle, author of Going Down
Kirsten Smith's verse is spare, subtle, and tender.

- Deborah Calletti, author of Honey Baby Sweetheart
The Geography of Girlhood is lyrical, gorgeous, hard-hitting. I couldn't put it down.

- Lauren Myracle, bestselling author of ttyl
Kirsten Smith invites us to join Penny Morrow on her road to self-discovery, sending delicious postcards home from each stop along the way. Smith's poems are tender maps of beauty and pain, of longing and hard won truths, of a young girl's journey to womanhood.

- Sonya Sones, author of What My Mother Doesn't Know
Alternately caustic and vulnerable, above all, Smith's writing is true.

- E. Lockhart, author of The Boyfriend List