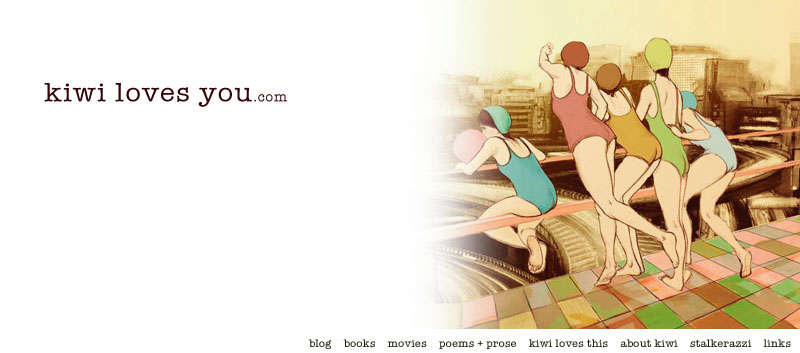 TOUR & UPCOMING APPEARANCES
Saturday, June 17, 2006
Brilliant author Doug Cooney (The Beloved Dearly) and the studly Christian Lebano affirm their vows, with son Gideon in attendance!
Wednesday, June 21, 2006
Kiwi sees The Twilight Singers at the Avalon in Hollywood, and you should, too!
Saturday. June 24 - 25, 2006
Kiwi goes to the American Library Association Conference in New Orleans.
Thursday, July 6, 2006
Kiwi sees Belle & Sebastian in LA with Shauna and Fred
Thursday, August 12, 2006
Kiwi's Birthday!
Saturday, September 9, 2006
Wonderful author and journalist Deanna Kizis (her new book Finishing Touches is so awesome) marries Julian Cautherley in Heelsburg, California (did I spell that right?)
Sunday, September 3, 2006
The wonderful Michael Hacker marries his beautiful lady-friend Rachel in Livingston Montana.
Sunday, September 17, 2006
Brilliant film critic (and previously confirmed bachelor) Owen Gleiberman marries his darling fiance Sharon in NYC
November 19, 2006
Kiwi goes to the ALAN Conference in Nashville